» Stats
Members: 44,544
Threads: 103,546
Posts: 4,821,845
Top Poster: hvg3akaek (51,067)

Welcome to our newest member, Storijon78
» About RPG Crossing
If you'd like to craft stories and play role playing games
with thousands of people from around the world,
you've come to the right place!


RPG Crossing is a 40,000+ member online community that focuses on play by post role playing games (PBP RPG) and features such systems as Dungeons and Dragons (2e, 3e, 3.5e, 4e, 5e), Pathfinder, GURPS, d20 Modern, Serenity, Star Wars, Storytelling (World of Darkness) and many more. We are an active community with many new games looking for players every day, and with plentiful guides and tutorials for the new player and the veteran alike, including: New Player Solo Games to introduce new players to PBP and/or RPing; and DM Mentoring - a forum full of collaborative DM tools.

We also publish Explosive Runes, a terrific free role playing magazine with stunning artwork and great articles.

Free membership also gives access to our character sheets. We currently host over 82000 sheets for 10 different role playing systems!
» News
Downtime explained
May 02, 2016 - 10:47 PM - by Birched
So, tonight this happened:




Seriously, though, our host had a hardware problem which was complicated by a couple of other things going wrong at the same time. It all added up to about 2 hours and 40 min of downtime, the likes of which we haven't experienced around here for quite some time. It looks like the vermin are disposed of, the server is back on the rack, the power cord is plugged in, and everything is generally back in order now.

Back to your games!
13th Age Character Sheet is Now Active
May 01, 2016 - 10:48 PM - by Birched
I've put together a 13th Age character sheet for use by all site members. Please give it a whirl, and let me know if you have any comments or questions in the 13th Age Sheet Thread.

Happy gaming!
Post of the Month Winner Announced!
Apr 29, 2016 - 4:43 PM - by Nimlos
Post of the Month Winner Announced!

Spring has sprung, and it's brought us a new crop of PotM entries.

Now, with no further delay: the Post of the Month winner for March 2016 is ... Nade!

You can read the winning entry here. Please congratulate Nade for this exemplary work.

We've had a few humorous and light-hearted posts in recent months. This ... is not one of them.

The other nominations for March 2016 can be read here. Each is an exceptional entry and well worth the read. It's an impromptu funeral and a glimpse into a character's mind at its weakest moment. It's a well-executed, engaging post.

The PotM contest for April 2016 is going on even as you read this. Be sure to nominate your favorite posts from the month of April.
Update to Site Rules: fun for all!
Apr 18, 2016 - 9:40 PM - by Birched
We have updated the Site Rules to add clarity about the fact that we expect all moderators (including GMs and their ilk, who moderate their own games) to treat other site members well, how to encourage that, and how to report problems.

This is not due to any incident(s) at RPG Crossing, but in response to a larger discussion in the gaming community about tolerance and respect. We have a great community here, and the goal is to reinforce that.

The following text was added to the top:

... [Read More]
OUTPLAY! Vote for your favourite system for this year's player competition!
Apr 13, 2016 - 2:45 PM - by Birched
(also known as Which of these game system options will you actually apply for if we run it in Outplay 2016?)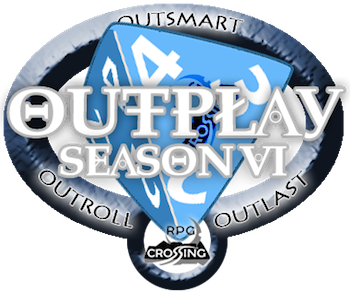 It's that time of year again!

When the sun is warm, and the grass is beginning to turn green, a young gamer's thoughts turn to... showing everyone just how awesome of a player they are. What did you think I was going to say?

That's right, Outplay 2016 is right around the corner, but this year, we want to know; what systems do you want us to run? Would you apply if there was a Pathfinder division? Are you 5e all the way? Would you prefer to play 4e, or Mutants and Masterminds, or GURPS, or Basic DnD?

We want to hear from you! Between April 13th and May 1st you can go here to vote for what systems you'd like to see in this Year's Outplay - the applications for which will open on June 6th, by the way. (We'll spend May trying to find GMs for the odd systems we weren't expecting to run.) Keep in mind, if we can't come up with a game master and three judges, we can't run a niche system bracket. Sorry, but volunteers are sometimes hard to come by.

Mark your calendars, this year is going to be a good... [Read More]
April Short Story Competition Details
Apr 11, 2016 - 6:31 PM - by Birched

The short story competition has been a user run competition at RPG Crossing for years, and it's time it got some official love. Please see the information below, and check out the main announcement post for the April Competition for more rules and details. Good luck!



RPGX Short Story Contest #74 - April 2016



Open to everyone.

Genre: Any Fiction
Topic: Pieces of Time (Any Interpretation or Rephrasal Valid)
Challenge: Somewhere in your story include: laundry, raspberries, and a broken wheel

Suggested Word Limit: 500 - 3000 words.
Deadline for entries: May 1st, 2016

more...