» About RPG Crossing
If you'd like to craft stories and play role playing games
with thousands of people from around the world,
you've come to the right place!


RPG Crossing is a 40,000+ member online community that focuses on play by post role playing games (PBP RPG) and features such systems as Dungeons and Dragons (2e, 3e, 3.5e, 4e, 5e), Pathfinder, GURPS, d20 Modern, Serenity, Star Wars, Storytelling (World of Darkness) and many more. We are an active community with many new games looking for players every day, and with plentiful guides and tutorials for the new player and the veteran alike, including: New Player Solo Games to introduce new players to PBP and/or RPing; and DM Mentoring - a forum full of collaborative DM tools.

We also publish Explosive Runes, a terrific free role playing magazine with stunning artwork and great articles.

Free membership also gives access to our character sheets. We currently host over 82000 sheets for 10 different role playing systems!
» News
December PotM
Jan 16, 2022 - 2:27 PM - by chocoladevla
Despite the fact there were only four posts nominated this month, it was still a challenge to choose the best one this time. The motivation, reasons to nominate were very helpful and by saying that I want to give some gratitude to the ones taking the time to nominate. Respect for you all, it shows compassion for the site and you are providing the stage for a RPG-member to shine.

This month, please turn your lights to this post, written by Solid Snek. Congrats with your Post of the Month win and your entry even gets straight into the Post of the Year 2021!! Before reading and adding that well-deserved RPXP -> this post was nominated by HotsuSama because (quote) of the vivid sense of place that suits the whims of... [Read More]
Charity Drive Prizes are on the way!
Jan 07, 2022 - 6:35 PM - by Birched
I have finished collating and sending out information about prize winners to donors, so you should see some emails about prizes from third parties in the coming days. Have fun with all the great content, and please write reviews for the ones you use to help support our prize donors.

Thank you again to everyone who participated in RPG Crossing's 2021 Membership and Charity Drive, and thank you to all our prize donors. Our community made a real contribution to improving the lives of those affected by mental illness.

- Mark / Birched

PS. At least two of our donors sent out prizes within minutes of being informed, so I know for example that the Fragged Empire and Fragged Seas invites should already be in your inbox and, for those receiving them, the physical Brass Rings books are in the mail already (!). Enjoy!


Happy New Year 2022!
Jan 01, 2022 - 2:02 AM - by Birched
Happy New Year!

I watched "Death to 2021" on Netflix the other night. Some of it was amusing, but all of it felt like a surreal revisitation of the bizarre and disturbing year we never wanted but got anyway. Some of 2021 was benign-weird: the kind of year where artists find new ways to sell their grandmother, Captain Kirk goes to space, and RPG Crossing has an in-person get-together after 18 years of text-based anonymity. Unfortunately, much more of it, and especially the kinds of things they like to show on Netflix, was crap-weird. I took a few photos this year, and this one feels eerily appropriate:

The Committee



But that's not us! I am proud that our community has continued to serve as a bright and comfortable haven for travellers in these dark days. I've heard many stories about how the inviting, welcoming, and engaging nature of all of you has helped people... [Read More]
Current standings for Kobold Games prizes for top donors
Dec 28, 2021 - 5:19 PM - by Birched
A quick update on the current standings for the Kobold Press for our top 6 donors!

As you know, the six individuals (not companies, not matching funders, not donations from "RPG Crossing") who donate the most at our direct Brain & Behavior Research Foundation team donation page will each receive a bundle of 3 digital (PDF) offerings from Kobold Press (value $75) to bulk up their creature collections.

Right now, the highest non-anonymous individual donation is $125, and the minimum donation to be in the top 6 is $50. Five folks have donated $50, though, so only the first few of those are currently in the top six (as originally stated, in the case of ties, first to donate wins the prize.)

Here's the image that shows the beautiful covers for these three books:



A huge thank you to Kobold Press for pitching in to help support our community and mental health research!!!

- Mark / Birched

(Additional information: Winners will need to create an account on the Kobold Press store if they don't already have one.)
RuneQuest Starter Set PDFs for the next 10 drive participants!
Dec 27, 2021 - 4:36 PM - by Birched
All claimed!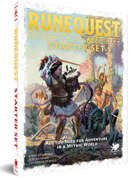 RuneQuest Starter Set

Did you miss the Call of Cthulhu starter set giveaway? Well, Chaosium is also supporting our drive this year with donations of PDF copies of their "RuneQuest Starter Set"! The next TEN people to purchase a full year CS membership ($5 will go to the BBRF) OR donate $10 or more directly to the BBR Foundation can spice up their games with a PDF copy of:

RuneQuest Starter Set :The RuneQuest Starter Set contains everything you... [Read More]
Wow! Triple matching DONE and Joshilyn Jackson to match another $500!
Dec 26, 2021 - 10:09 PM - by Birched
Great work! We've now managed to get everything we could out of our matching donors, Joshilyn Jackson for $1500 and an anonymous matcher for an additional $250 for the triple matching period, and we've almost raised as much as last year with 5 days to go. Thank you, everyone who has participated so far, by donating directly or by renewing (or purchasing or gifting) a membership during this period!

But hold on, Joshilyn Jackson apparently isn't content with us to limp over the finish line over the next several days. From the donation she made to match our progress so far, I quote:


Quote:

Originally Posted by Joshilyn Jackson

And we still have not exceeded last year. I think I should go ahead and match the next $500 as well. Now or never guys. Let's blow last year's total out of the water.
Challenge accepted! Let's see what we can do!