» Stats
Members: 65,488
Threads: 140,823
Posts: 6,793,459
Top Poster: hvg3akaek (56,731)

Welcome to our newest member, LloydQju84
» About RPG Crossing
If you'd like to craft stories and play role playing games
with thousands of people from around the world,
you've come to the right place!


RPG Crossing is a 40,000+ member online community that focuses on play by post role playing games (PBP RPG) and features such systems as Dungeons and Dragons (2e, 3e, 3.5e, 4e, 5e), Pathfinder, GURPS, d20 Modern, Serenity, Star Wars, Storytelling (World of Darkness) and many more. We are an active community with many new games looking for players every day, and with plentiful guides and tutorials for the new player and the veteran alike, including: New Player Solo Games to introduce new players to PBP and/or RPing; and DM Mentoring - a forum full of collaborative DM tools.

We also publish Explosive Runes, a terrific free role playing magazine with stunning artwork and great articles.

Free membership also gives access to our character sheets. We currently host over 82000 sheets for 10 different role playing systems!
» News
Champions Complete from Hero Games for the next 6 drive participants!
Dec 09, 2021 - 1:31 PM - by Birched
All copies claimed!

Hey all! It's time for our next drive giveaway!

The next 6 participants in RPG Crossing's 2021 Membership and Charity Drive (minimum of a full year membership or a $10 direct donation) will get all the normal goodies and ALSO get a digital copy of: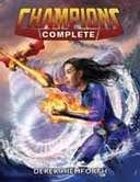 Legendary Adventures

Champions Complete from Hero Games : The ultimate super roleplaying game returns to reclaim its crown in Champions Complete! All the legendary flexibility and power of the renowned HERO System rules engine, plus all the superhero goodness Champions has been famous for over 30 years, now in one pulse-pounding, senses -shattering, heroic handbook of superpowered action!

... [Read More]
Charity Auction! Get a bargain on a gaming accessory, or maybe some custom art!
Dec 09, 2021 - 10:59 AM - by Birched
Along with all our other Charity Drive Contests and offers, don't forget the 2021 RPGX Charity Drive Auction! The Staff at RPG Crossing have gathered together some items for you to look over, and bid upon if they strike your fancy. Gaming related books, magazines, even comics, are up for auction, with some real bargains to be found. Best of all, all the proceeds (yes, 100% of the money raised) will go directly to the Charity Drive for RPGX.

It's simple and easy: just pop into the Auction thread, and make a bid. You can see what they are currently going for, and raise the offer. If you are the wining bidder at the end of the auction, it's yours! And, once again, 100% of the money goes to the Brain & Behavior Research Foundation!

The 2021 RPGX Charity Drive Auction

See you there!
Wondering what is in the big 5e charity bundle from Underground Oracle @UOPublishing?
Dec 09, 2021 - 10:51 AM - by Birched
Hey all,

If you've been wondering what's in this year's charity bundle from The Underground Oracle for our drive, wonder no longer! Here's the list, full of 5e goodness!

And if you haven't participated in the drive yet, you are only a one year site membership OR a minimum $10 donation to charity from picking all this up! All qualifying participants in the drive will receive this bundle at the end of the drive.

If you aren't sure where to start, here's a tip from The Underground Oracle: "That bundle has some of my favorite supplements we've knocked out over the last year. Particularly Monsters Mythica: Terrors of the Deep Woods. I'm very proud of that one."

RPG Crossing Charity Drive 2021
... [Read More]
Great prizes from Kobold Press for the top 6 donors to the BBRF!
Dec 08, 2021 - 10:35 PM - by Birched
Announcing great prizes from Kobold Press for our top 6 donors! For those who missed their chance last year -- generosity is again the path to creatury goodness care of Kobold Press!

The six individuals (not companies, not matching funders, not donations from "RPG Crossing") who donate the most (and more than $10) at our direct Brain & Behavior Research Foundation team donation page will each receive a bundle of 3 digital (PDF) offerings from Kobold Press (value $75) to bulk up their creature collections. So far, the field is WIDE OPEN. Ties will go to the earlier donor. This award is for the amount actually donated by the individual directly through our BBRF donation page, and does not include matching funds.

Please note: if you want to be identifiable and reachable to receive one of these bundles, you must put some kind of identifier on your donation so that you can be contacted! If you donate anonymously, please include your site username in the comment field.

Here's an image that shows the beautiful covers for these three books:


... [Read More]
New payment methods for CS memberships and site donations
Dec 08, 2021 - 10:10 PM - by Birched
Just a quick heads up: I have updated the Support the Site page to include some new payments methods, for those who have been asking for some of these. Note that the first line of this page also shows your current CS membership expiry date, if you are already a CS member.

Please send me a pm if you have any questions or suggestions.

Thanks,

Mark/Birched
A big long thank you to many fine people who make our welcoming RPG community great
Dec 08, 2021 - 9:38 PM - by Birched
Hi all,

I am thankful for the friendly and welcoming community that has grown and been sustained at RPG Crossing and for the contributions of each and every one of you to making that happen. Everyone here regularly creates content that enriches the experience of other members. That said, I recently had a discussion with the site staff and admins about folks who they saw making contributions to the community that were above and beyond. From that conversation, come these lists of people who deserve a very big thank you! If you feel that I should add some folks, or whole categories, here, or you see errors, please let me know! This is a big and active community, and sometimes it's hard to keep track of everything that's going on.

And if, as often happens during the drive, you find you are one of those would like to gift a CS to a site contributor but aren't sure who to gift one to, please first consider your own GMs, and then perhaps take a look below at the blue names as possibilities (assuming they haven't gone green in the meantime!)

A huge thank you to all these people, each of whom have devoted a little bit extra to making this community stronger and better.

First, I'd like to thank those who go out of their way to welcome newcomers in the New Member Introductions threads. Everyone who takes the time to say hello to someone new here makes a difference. The following people have done it the most over the... [Read More]