All copies claimed!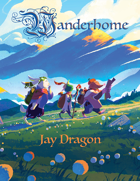 Wanderhome
Possum Creek Games
is supporting our drive this year with donations of digital copies of their "Wanderhome" RPG. The next TEN people to
purchase a full year CS membership
($5 will go to the BBRF) OR
donate $10 or more directly to the BBR Foundation
can try out a new RPG:
Wanderhome
: a pastoral fantasy role-playing game about traveling animal-folk, the world they inhabit, and the way the seasons change. It is a game filled with grassy fields, mossy shrines, herds of chubby bumblebees, opossums in sundresses, salamanders with suspenders, starry night skies, and the most beautiful sunsets you can imagine. (value $25)
This game seems like a great option for PBP at RPG Crossing. It can be played diceless and
GMless
! Intriguing!
Of course, you also get all the other goodies that drive recipients are receiving.
A huge thank you to Possum Creek Games for pitching in to help support our community and mental health research!!!
Don't forget that all donations are currently being matched by author
Joshilyn Jackson
. At this writing we up to $980 of the $1500 she offered to match. Let's spend her money!
Have a great start to your week!
- Birched/Mark
PS You might also be interested in our
charity auction
for bargains on gaming-related accessories in support of a good cause!