All claimed!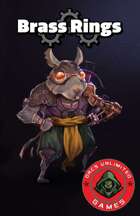 Brass Rings
Orcs Unlimited Games
is supporting our drive this year with donations of digital copies of their "Brass Rings" RPG to all participants, but a few lucky folks can get a physical copy of the game. The next SIX people to
purchase a full year CS membership
($5 will go to the BBRF) OR
donate $10 or more directly to the BBR Foundation
will pick up our only physical prize of the drive:
Brass Rings
is a game of adventure among the rings of Saturn and its abandoned outposts. Many generations ago, the forerunners abandoned the rings and left behind the current inhabitants. The rodents of the Great Tree have built a life and home but are in need of new resources to continue to grow and prosper. Railroads extend to the outposts and airship ports to assist with exploration. The residents of the Great Tree live in a time of adventure and exploration, but also a time of danger. The forerunners did not just leave behind the rodents, but their way of controlling them as well. As the rodents move out into the ring to find the ruined forerunner outposts, they are met with the many threats left behind by the forerunners. This is a casual play RPG that can be picked up and played within moments. Based on the Open Orc System. This six-sided dice-based system is meant to play exciting narrative-driven games of exciting adventures. (Value: $10)
Of course, you also get all the other goodies that drive recipients are receiving.
A huge thank you to Orcs Unlimited for pitching in to help support our community and mental health research!!!
Don't forget that all donations are currently being double matched by author
Joshilyn Jackson
and an anonymous donor! Participate now to triple your impact to charity!
Have a great start to your week!
- Birched/Mark
PS You might also be interested in our
charity auction
for bargains on gaming-related accessories in support of a good cause!