All claimed!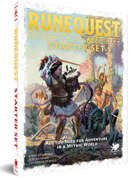 RuneQuest Starter Set
Did you miss the Call of Cthulhu starter set giveaway? Well, Chaosium is also supporting our drive this year with donations of PDF copies of their "RuneQuest Starter Set"! The next TEN people to
purchase a full year CS membership
($5 will go to the BBRF) OR
donate $10 or more directly to the BBR Foundation
can spice up their games with a PDF copy of:
RuneQuest Starter Set
:The RuneQuest Starter Set contains everything you need to play the world's best roleplaying game of gods, cults, magic, family, and fantasy! In RuneQuest, everyone uses spells and anyone can be a warrior. The gods provide powers to their mortal worshipers, and can intercede on their behalf. Each RuneQuest adventurer is unique, defined by their Runes, culture, and cult—all chosen by the player. (value $15)
Of course, you also get all the over $100-worth of other goodies that drive participants are receiving.

A huge thank you to Chaosium for pitching in to help support our community and mental health research!!!
Don't forget that all donations are currently being matched by author
Joshilyn Jackson
. Remember, too, the
Kobold games prizes for top direct donors to the BBRF.
This is our last extra prize giveaway!
Happy Monday!
- Birched/Mark