This is a big one, folks.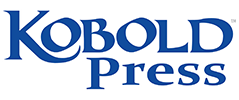 Wolfgang Baur of
Kobold Press
has donated four
outstanding
prizes in support of
RPG Crossing's membership and mental health charity drive
.
This is how it's going to work: the top four (non-anonymous -- i.e. identify yourself at least through your site username in the message part of the donation) direct donors* to the Brain and Behavior Research Foundation
through our donor page
will each get one of these prizes. First place will pick first, and so on down the line. Donations will be tallied at the end of the drive (end of day January 1, 2019.) And of course, you'll also get the bonus items that other drive participants receive.
Item #1, set of 5 Kobold Guides, retail value $75
Kobold Guide to Board Game Design PDF
Kobold Guide to Worldbuilding PDF
Kobold Guide to Plots & Campaigns PDF
Kobold Guide to Magic PDF
Kobold Guide to Gamemastering PDF
Item #2, set of 4 Setting and Adventures, retail value $90
Midgard Worldbook PDF (5th Edition D&D and Pathfinder 1E)
Midgard Heroes Handbook PDF for 5th Edition D&D
Midgard Sagas PDF for 5th Edition D&D
Southlands PDF for Pathfinder 1E
Item #3, set of 3 Monsters and Lairs, retail value $105
Tome of Beasts PDF for 5th Edition D&D
Book of Lairs PDF for 5th Edition D&D
Creature Codex PDF for 5th Edition D&D
Creature Codex Lairs PDF for 5th Edition D&D
Item #4 is PRINT rarities, set of 3 items, retail value $200+ (NOTE: shipped to a US address or with postage overseas paid by the winner--shipping to Australia or even the UK is likely about $85)
Midgard Limited Edition hardcover (5th Edition D&D)
Southlands Limited Edition hardcover (Pathfinder 1E)
Return to Castle Shadowcrag, Limited edition Softcover (either D&D or PF, as preferred)
Just ... wow! A huge thank you to Kobold Press for their support of our efforts on behalf of the Brain and Behavior Foundation!
- Mark / Birched
*Don't worry -- donations made by RPG Crossing (the big donation from the staff and donations from the $5 from each membership) DO NOT COUNT for the purposes of this prize. The biggest donation so far is $500 from "Rukellian". But, there's plenty of room to get into the top 5, so donate like crazy! With prizes like this, that's some wise advice!