all claimed!
Hey do gooders!
The next 25 participants in
RPG Crossing's 2021 Membership and Charity Drive
(minimum of a full year membership or a $10 direct donation) will get all the normal goodies and ALSO get a digital copy of: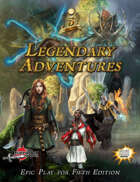 Legendary Adventures

Legendary Adventures: Epic 5E from Legendary Games
:
A 128 page sourcebook that provides everything you'll need to go beyond the core ruleset—or to fill up the GM's toolbox with a host of new epic creatures if you're already there.
Legendary Games makes great stuff -- I encourage you to check it out. A big thank you to Mike Myler and Jason Nelson!
Don't forget that all donations are currently being matched by author
Joshilyn Jackson
. At this writing we have only spent $500 of the $1500 she offered to match, so let's get to work!
Have a great week!
- Birched/Mark
PS Watch this space -- more announcements to come!
PPS 5E lovers -- this is for you! There's more great stuff coming in later giveaways from Pelgrane Press, Magpie Games, Chaosium, Hero Games, SlugFest Games and Orcs Unlimited, and maybe more!