All copies claimed!
Hey all! It's time for our next drive giveaway!
The next 6 participants in
RPG Crossing's 2021 Membership and Charity Drive
(minimum of a full year membership or a $10 direct donation) will get all the normal goodies and ALSO get a digital copy of: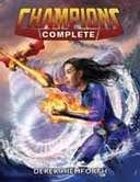 Legendary Adventures

Champions Complete from Hero Games
:
The ultimate super roleplaying game returns to reclaim its crown in Champions Complete! All the legendary flexibility and power of the renowned HERO System rules engine, plus all the superhero goodness Champions has been famous for over 30 years, now in one pulse-pounding, senses -shattering, heroic handbook of superpowered action!
In addition to the rulebook, all recipients will be invited to participate in a short introductory PBP Champions game GM'd by Sirviantis at this site. So make sure you make space in your gaming schedule for one more!
I had some powerful nostalgia looking through this rulebook. The first edition of this game was one of the first ttrpgs that I owned!
Don't forget that all donations are currently being matched by author
Joshilyn Jackson
. At this writing we have only spent $775 of the $1500 she offered to match, so let's spend her money!
Have a great end to your week!
- Birched/Mark
PS You might also be interested in our
charity auction
for bargains on gaming-related accessories in support of a good cause!